About The Furniture Shack
Based in Portland, Oregon, The Furniture Shack is a family owned and operated company with over 20 years in the industry. We're a low overhead operation that provides household furniture at a discounted cost. We don't use fancy sales tactics to get your purchase, unlike other retailers. We work on low margins and buy right. That's what allows us to pass on savings to you. Here at The Furniture Shack we also offer a 5-Star layaway plan. The plan allows you as the consumer to decide what you want to put down, how much you want to pay every couple of weeks, and when you want to get it. Yes, you get to decide. There's nobody better that can decide your finances, so you set the conditions and we play by your rules.
We at the Furniture Shack have value in every corner of our showroom, or we won't place it on our floor. We have themed our store as a shack to give you a pleasant shopping experience.  We stand-out from the others! Come in and see us!  You will not be disappointed.

Charitable Giving
The Furniture Shack has donated close to $300,000 in necessary goods to charity and is a proud and strong supporter of The Portland Rescue Mission and all that they do to help Portland's homeless community.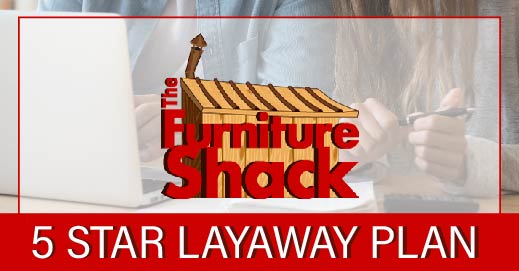 FREE 5-Star Layaway Plan
It's Free! There are no interest fees, setup fees or storage fees. You put down what you want, you pay every two weeks what you want, and take it home when you want. All we ask for is a 2 week notice prior to pickup. We also allow you as the consumer to change up items if you find something different than what you originally selected. On top of that, we also offer a 10 day refund on your initial layaway deposit if you decide against it. Anything after 10 days is a merchandise credit. You're the boss!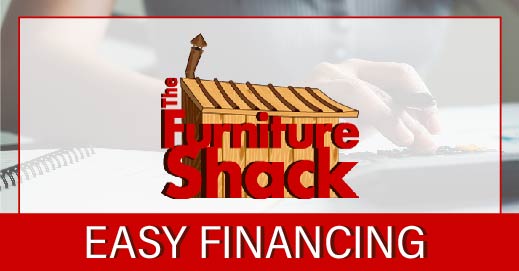 Easy Financing
We offer 6 month interest free financing under $1000 and 12 months for anything over $1000. Our interest free financing has flexible payment plan options to make it convenient to you!
Same Day Deliveries
The Furniture Shack provides same day delivery or will schedule it at your day of preference. We understand that you might be moving, closing on a new home, or need to rid your current home of merchandise that has been purchased previously. You pick the date and we will make it happen! Call for details.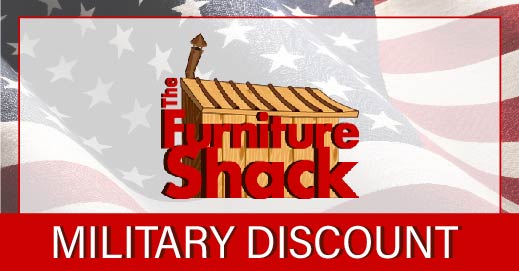 Military Discount
Thank you to our service men and women for the sacrifices that you give and have given! As a family owned business and having military service in our family, we know what those sacrifices are. We offer an additional 5% on our already discounted products. Wish we had more room, but our prices are already discounted vs other retailer establishments. Clearance items or sale items do not apply. Again, THANK YOU for what you do for this great country!
Got A Question?
Our friendly and knowledgeable staff is ready to answer your questions fast. Use the form below to leave your information. We at the Furniture Shack have value in every corner of our showroom. You will not be disappointed.